Horizon Nuclear Power
Horizon Nuclear Power Community Update
Click here to download a copy of Horizon Nuclear Power's Spring 2019 Community Update newsletter.
This issue provides information on the recent decision to suspend Horizon's new nuclear build projects, including at Oldbury-on-Severn, following an announcement by our parent company, Hitachi Ltd.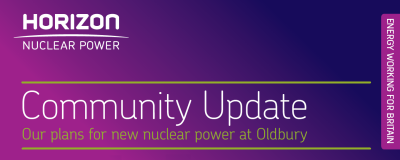 Updates on property maintenance and information on our Oldbury site's nomination into the Government's new National Policy Statement (NPS) process, are also included.
This newsletter is hand-delivered to around 16,000 homes on both sides of the Severn. Copies are also distributed to One Stop Shops and libraries throughout South Gloucestershire, The Forest of Dean and Stroud District Council.
If you have any queries, or would like additional copies, please call us on our Freephone number: 0800 130 3125 or email us at: .


Horizon suspends UK nuclear new build activities - January 2019
Horizon Nuclear Power has announced that it will suspend its UK nuclear development programme, following a decision taken by its parent company Hitachi, Ltd. Horizon is developing the Wylfa Newydd nuclear plant on Anglesey in North Wales and has a second site at Oldbury on Severn in South Gloucestershire.
The company has informed the UK Government of the decision taken at the Hitachi Board meeting on 17th January not to continue with the current programme of activities.
Duncan Hawthorne, CEO of Horizon Nuclear Power said:
"We have made very strong progress on all aspects of the project's development, including the UK design of our tried and tested reactor, supply chain development and especially the building of a very capable organisation of talented and committed people.
"We have been in close discussions with the UK Government, in cooperation with the Government of Japan, on the financing and associated commercial arrangements for our project for some years now. I am very sorry to say that despite the best efforts of everyone involved we've not been able to reach an agreement to the satisfaction of all concerned.
"As a result we will be suspending the development of the Wylfa Newydd project, as well as work related to Oldbury, until a solution can be found. In the meantime we will take steps to reduce our presence but keep the option to resume development in future."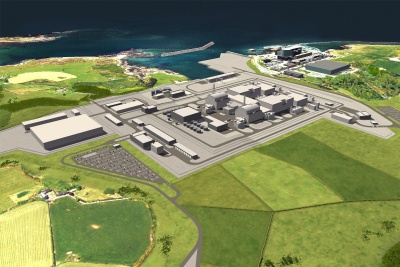 Addressing the effects that this decision will have, Mr Hawthorne said:
"Clearly this will have a significant impact for all involved with our project. We will look to minimise this as much as possible as we move into this next phase and we will begin consultation on the implications immediately with our staff who have shown extraordinary talent, resilience and determination to take this complex and exciting project to this stage.
"We will also engage closely with the many international and UK-based stakeholders who have strongly supported the project's development, especially our lead host community of Anglesey in Wales, represented by the Isle of Anglesey County Council and Welsh Government, and the key representatives around Oldbury."
Mr Hawthorne said nuclear remained critical to delivering the secure, low carbon and affordable energy the UK needs.
"As shown by our completion of the Generic Design Assessment for the UK Advanced Boiling Water Reactor, I am confident that the technology can play an important role in helping tackle our energy needs and meeting our climate change targets. Wylfa Newydd on Anglesey remains the best site for nuclear development in the UK and we remain committed to keeping channels of communication open with the Government and our other key stakeholders regarding future options at both our sites."


Background Information
Horizon Nuclear Power was formed in 2009 to develop new nuclear power stations in the UK. It was acquired by Hitachi, Ltd. (TSE: 6501) of Japan in November 2012.
Hitachi-GE, a joint venture established by Hitachi, Ltd. (TSE:6501) and GE in July 2007, as one of the world's leading comprehensive plant manufacturers, engages in the development, planning, design, manufacture, inspection, installation, pre-operation, and maintenance of nuclear reactor-related equipment and is able to execute integrated project management. Hitachi-GE has been involved with 23 reactors in Japan to date, including those currently under construction.
Wylfa Newydd is Horizon's first site and we aim to secure initial electricity generation there in the first half of the 2020s, with Oldbury to follow. No decisions have yet been made about our Oldbury project and the go ahead would not happen until we've carried out formal consultation with local people, allowing them to have their say and help shape our proposals. We're working on the detailed timescales for this.


Contact Horizon
If you have any queries or issues you would like to raise with Horizon, please call Freephone number 0800 130 3125 or email:
For more information on Horizon Nuclear Power visit: www.horizonnuclearpower.com
You can write to: Horizon Nuclear Power, 5210 Valiant Court, Gloucester Business Park, Delta Way, Gloucester, GL3 4FE.
For more information on Hitachi, please visit the company's website at www.hitachi.com