Christopher Anthony Exclusives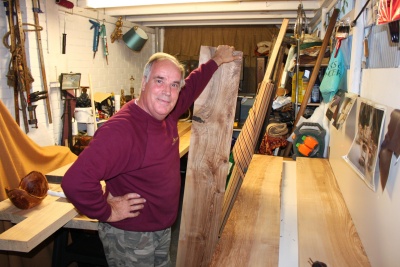 How to contact Chris
To arrange an appointment, please call Chris on 07539 739948 or Karen on 07794 789354 or email .
Chris is happy to come to your home or business and give a free quote with no obligation.
Upholstery Classes
Would you like to breathe new life into a favourite piece of furniture?
Are you ready for a new challenge?
Would you like to learn traditional and contemporary upholstery skills such as polishing and buttoning?
Chris now sharing his knowledge and talent at upholstery classes in Rockhampton Village Hall.
There is a £25 fee to join the Upholstery Club, then you pay £5 per hour to drop in at your leisure and work on your own project under expert supervision.
Quote "MyThornbury" for a £5 discount and pay just £20 to join.
Drop-in sessions currently run Tuesdays 10am-1pm, and more will be scheduled on demand.
To find out more or arrange to pop in to Chris' workshop and see what he does, please call Chris on 07539 739948 or Karen on 07794 789354 or email .


Back to the Future...
If you inherited an original Georgian Gentleman's chair, wouldn't you want it restored to its original splendour?
When a Thornbury resident wanted the piece pictured below restored, he called on Chris from Christopher Anthony Exclusives.
Chris trained in the early 1970s at Bouyant Upholstery in Derbyshire, which aimed to create high class furnishings to match the quality of Rolls Royce interiors.
Further specialist training at Rolls, using the finest Connolly leathers, fired Chris' enthusiasm for working with premium leathers and upholstery.
Chris sourced leather from an old Bouyant suite to turn back the clock and show how the chair would have looked when brand new in Georgian times.
Click through the gallery below to see the various stages of restoration, literally taking it back to the future to be used and loved for another two or three centuries!
What can Chris do for you?
Chris has worked in all types of furniture design, manufacture, restoration, conservation and upholstery.
From classic car interiors to modern furniture, he has tackled most projects, and prides himself on producing a finish of the highest quality.
Chris can advise on colours and offers a wide choice of fabrics, whether for a three piece suite or a single chair.
Whether you have a much-loved piece of furniture to be restored or would like a bespoke item created especially for you, Chris is your man.
The gallery below shows the wide variety of styles Chris can create:
Click below to see the restoration of a much loved family sofa from start to finish...
Life in the fast lane...
Chris' specialist skills in leather restoration reached the ears of a Thornbury car bodywork repairer.
When a classic car enthusiast brought in his 1958 red Mercedes-Benz 300SL sports car, the garage owner recommended Chris to restore the interior.
The owner thought the cream leather had cracked and split beyond repair, but Chris proved him wrong, using techniques learned working on the Rolls Royce Phantom Vs at Sinfin in Derby.
The leather has now been fed, recoloured and rebonded to look almost as good as new, and means the car has been able to keep its original leather.
Latest Car Projects
Chris has been working on some very special cars...
Below you can see photos of work in progress on an ultra-exclusive Rolls Royce Phantom 5 - Chris stripped this right back to its springs and re-trimmed the entire interior.
The Lamborghini Countach V12 sports car also enjoyed a full interior re-trim to look as good as new...
Some owners prefer to have the interiors restored rather than replaced. On the Porsche 911 high performance sports car, Chris repaired and recoloured the existing black leather seats to give them another lease of life.