Fire safety

Stay safe in the kitchen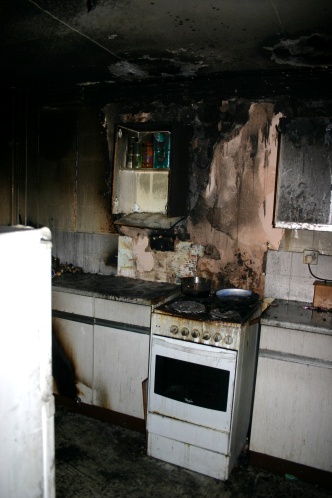 The kitchen is one of the most dangerous rooms in the house with plenty of hazards to cause accidents and injuries.
Around 70 percent of all domestic fires attended by Avon Fire & Rescue Service start in the kitchen and involve fat catching fire, whether in a chip pan or a dirty grill.
Avon Fire and Rescue Service has launched a campaign to remind people to take care when in the kitchen.
A moment's distraction could lead to a serious fire and endanger life.
Tips on staying safe in the kitchen:
Never fill a pan more than one third full of fat or oil
Never leave the pan or grill unattended when the heat is switched on
Never put food in a chip pan if the oil begins to smoke. Turn off the heat and leave the oil to cool, otherwise it could catch fire
Try to avoid using a chip pan altogether. Deep fat fryers are a much safer alternative as they are thermostatically controlled
Never wear loose clothing near to cooking materials, as it could catch fire causing severe burns, or it could get caught on something and pull it over
Keep tea towels well away from cooking appliances, as they could catch fire
Clean hobs regularly to prevent a build up of fat which can catch fire
Drinking alcohol and cooking is a mix that can end in disaster
If a pan does catch fire:
Do not move it – it could cause burns which last a lifetime
Turn off the heat if it is safe to do so but never lean over the pan to reach the cooker controls
Never throw water on it, this will only make it worse
Get out, stay out and call 999. If possible close the kitchen door on your way out. Then call the fire service, who are the professionals and have protective clothing and equipment to tackle the fire safely
Having a working smoke alarms fitted in your house could save your life, as it will act as an early warning sign if a fire does break out, allowing you to get out as soon as possible.
It is vital that batteries in smoke alarms are checked regularly and replaced when needed. Avon Fire & Rescue Service fits smoke alarms in properties for free.
Firefighters carry out Home Fire Safety Visits offering fire safety advice and fitting the smoke detectors free of charge. To book a Home Fire Safety Visit call 0800 1693 999. Members of the deaf community can text 07781 482627.
More information and leaflets on any aspect of fire safety in your home are available from Avon Fire and Rescue on 0117 926 2061 or by visiting www.avonfire.gov.uk.