The Swan, Thornbury
Next event
Saturday 31st October 2020
5pm: Halloween Afternoon Tea with Blood Orange Gin
The Swan, Thornbury
5-7pm
Halloween with a difference! This year due to restrictions we are going to be celebrating Halloween with an afternoon tea with some of your favorites sandwiches, cakes and scones - all with a difference. You'll also get two double blood orange gins.
To book your place ring us or call in with a £10 deposit. We can cater for groups up to 6 to fall in line with government guidelines. For every person who books we will be making a donation to the homeless.

mythornbury.co.uk/thornbury/the-s...

---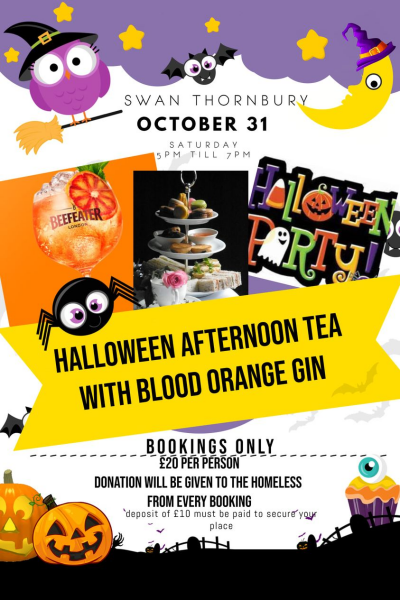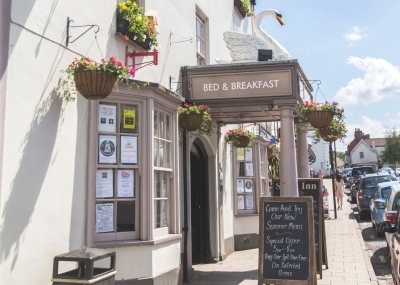 Get in Touch
Please contact Landlady Sandra Davies to discuss any requirements or queries.
17 High Street, Thornbury, BS35 2AE
Tel: 01454 413062 or Mobile 07977 463674
Email:
Web: www.swanthornbury.co.uk
Click here for our Facebook page
We have FREE Wifi and are dog friendly!


Work from The Swan
If you're working from home and want to get out from your four walls, why not rent a desk at The Swan?
You could have your own desk space in The Swan's upstairs function room, with free Wi-Fi, unlimited hot drinks and either a breakfast or a lunch off the standard menu.
The cost is £12 for a morning or afternoon session: 8am till midday and 12 till 4pm. Times can be flexible.
There is space for around 10 people to allow for social distancing. After each booking the complete area will be cleaned and sanitised ready for the next user.
If you're interested ring us on 01454 413062 and ask for Sandra.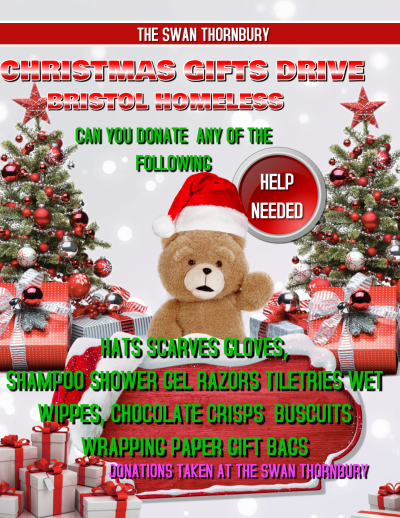 Help the homeless this Christmas
Sandra at The Swan says: "It's this time of year again when we start thinking of Christmas; we are collecting for the homeless and will be making Christmas Gift Bags up again.
Last year we did over 140 gift bags and gave them to the Samaritans this year we will be donating then to The Blonde Angels who do a huge amount of work for the homeless and help then get accommodation.
So this is where everyone can get involved; we are looking for donations of sweets, chocolate, biscuits, shampoo, shower gel, gloves, hats, scarves, men's and ladies' underwear (size small to medium for men and up size 12 for ladies), socks, razors, wet wipes and small gifts for ladies (possibly make-up) - gents' gifts too are always welcome.
Our target this year is 150 gift bags.
Also if you have any gift bags, wrapping paper, sellotape or anything at all that you think we can use, please drop it off at the Swan Thornbury!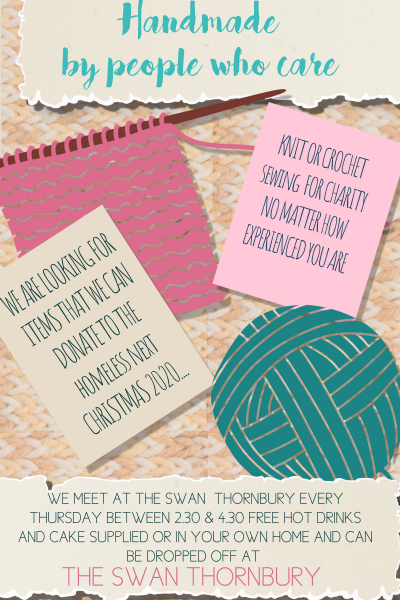 Knit for the homeless
Our knitting group is running again on Thursdays, 2.30 to 4.30pm.
If anyone would like to join us, you don't have to be proficient, just someone who can sew items together, knit basic scarves etc.
We would love you to join us and what's more there's a free cuppa for everyone.
Last year we had a great bunch of people to help us knit for the homeless...
If you can't get here then you can always knit at home and drop stuff off or even donate any oddments of wool that you have lying around.
All your help is greatly appreciated.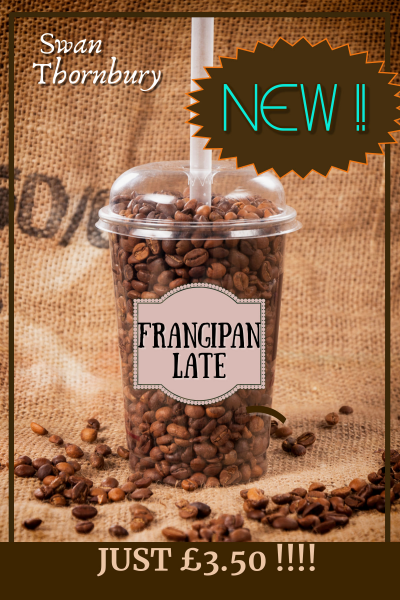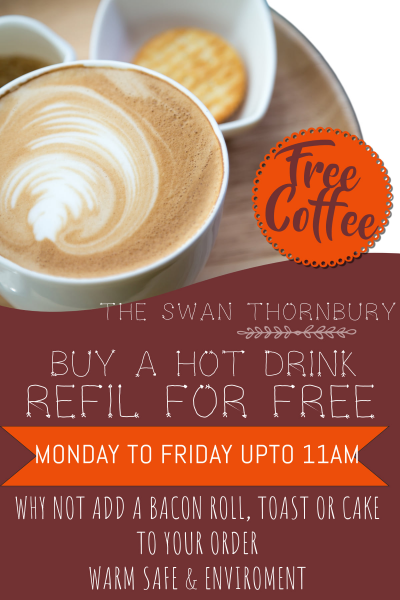 Winter Menus for Cold Days
No need to book, just walk in!
We can only cater for tables of 6 and below due to the current restrictions. However if you do have a larger group than 6 we will do our best to sit you within nearby tables as much as possible.
Ring to book your table 01454 413062, walk in or if you feel it's too cold and wet, why don't you let us deliver it to you instead...
Please ensure that you maintain social distancing, use our sanitiser on entry and if possible pay by card - however we are still taking cash from those who prefer to pay with cash...
Takeaways are available from 12 till 8 and home deliveries 12 till 2 and 6 till 8.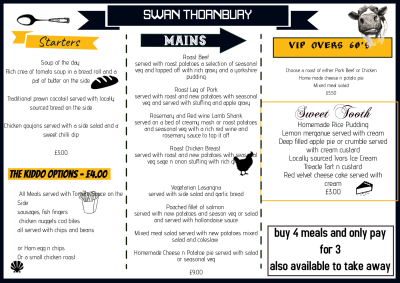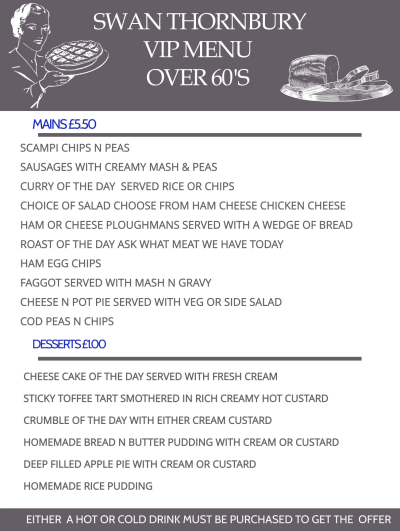 Click here for a larger version of the VIP Over 60s menu.
Click here for a larger version of the Sunday menu.


Regular Weekly Events
Please note some of our regular events are still on hold due to COVID-19 restrictions - please call to check!
Monday:
Meet Up Mondays - Has the weekend dragged? Feel like you could do with some company? Come along to #meetupmondays 10am at The Swan Thornbury for a lovely, dog friendly and people friendly warm welcome, and a good old natter over free tea, coffee and delicious cake.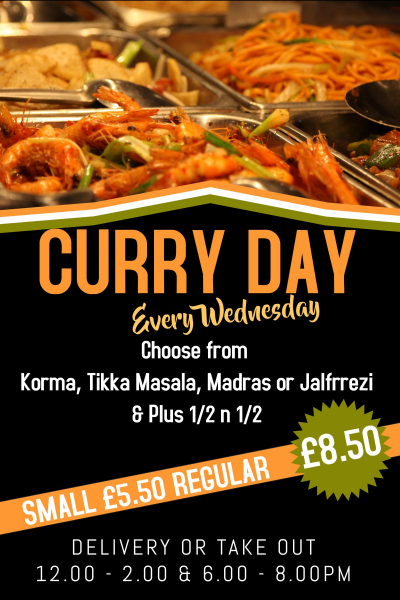 Build Your Own Burger Monday - Come along and try one of our 8oz burgers and then have a choice of extras to add to it; an amazing burger or why not choose a chicken burger or even a veggie burger - an array to suit everyone!
Bingo Afternoon - Every Monday afternoon at 2pm in the back bar. Everyone welcome - a great a hour of fun and laughter with a mixed age group too, which is great. There's always someone to sit near if you're coming on your own for the first time.
Tuesday:
Bingo Night - in the upstairs function room, starting at 8pm! Come and join in with a great group of people. Everyone is very friendly and don't worry if you are thinking of coming on your own - there is always someone looking to meet new people.
Wednesday:
Curry and a Pint £8.50 - a choice of at least 5 curries served with rice, chips or even half and half. You also get a free drink: choose from most pints small wine or any soft drink available every Wednesday available all day from 11.0am through till 8.25pm, an offer not to be missed.
Charity Quiz Night, starting around 8.30pm - just £1 to enter, supporting our charity of the month.
Thursday:
Retro Games Night - Ludo, dominoes etc., coming in Autumn 2019.
Grill Night - details to follow shortly.
Friday/Saturday:
Friday is Fish Day - Buy any fish meal to get a dessert for £1.25.
Meat Raffle - All profits are donated to charity.
Every Friday and Saturday from 9pm 'til late: Live Music Nights playing anything from Jazz, Mowtown, 60s and 70s, through to present day. See the events calendar for details.
Sunday:
Now open for breakfast from 9am on Sundays. Buy any breakfast and enjoy a free hot drink up to 11.30am.
Sunday Lunch offer: Why not come and try our Sunday lunch available from 11.30am till 3pm? Mix and match from the traditional menu or the roasts menu. Buy any starter and main course and get a dessert free.
We cater for large groups or just couples - everything on our roast is home cooked. You can book a table or just walk in what ever way you want to do it... A choice of at least 4 meats available very week.
Sunday Night at 6 - Free juke box and great £1 off offers.


Charity Fundraising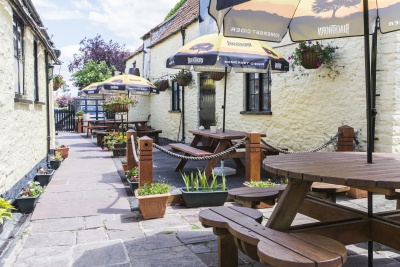 In October we are raising money for the homeless.
Please join us any Wednesday at 8.30pm to enjoy a fun quiz with your friends whilst helping to raise funds.
It's just £1 to enter and there are teams of a maximum of five. If you only have one or two of you then don't worry, as our resident quiz people are always happy to have additional people in their team.
We also hold many other events such as raffles, and all proceeds go to the charity of the month.
As of October 2019, we have raised over £126,500 for charity - the only pub in Thornbury to do this!


Bed and Breakfast at The Swan: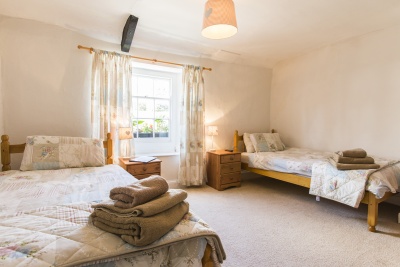 The Swan offers traditionally styled bed and breakfast, with a clean modern fresh twist.
We have three twin rooms available 7 nights a week, plus two shower rooms and a full bathroom.
All rooms are tastefully decorated with antique furniture and airy pastel colours, overlooking the High Street with a wide array of shops, cafés and amenities.
Full English breakfast comes as standard, but you can also include evening meals and packed lunches.
Each bedroom has a TV, free Wi-Fi and hot drinks-making facilities.
Contact Sandra for availability and prices, or book online.


What you'll find inside...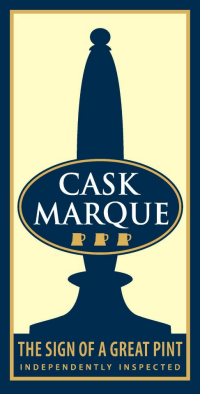 Bed and Breakfast 7 nights a week
The Swan's warm and friendly atmosphere, with a cosy open fire in winter, and child-friendly garden in summer
cask marque accredited ales
food served every day
a traditional bar area with a dart board and a 50" wide screen television showing all major sporting events on BT Sport
an upstairs function room licensed for up to 100 people, with catering available
training/conference venue with overhead projector and large monitor and free wi-fi.
outside catering
a skittle alley
our beer garden and BBQ area with landscaped family-friendly garden
parking available within 50 yards
Proper Pub Grub...
Food is served daily Monday and Tuesday 10am-8pm, Wednesday and Thursday 10am–8.30pm, Friday and Saturday 9am–6pm and Sunday 9am–3pm. Food can be served outside of these times if notice is given.
There are two sizes of cooked dinners: a small is £5.50 (perfect for smaller appetites and Golden Oldies!) and a regular is £8.50, with a choice of meats, available 7 days a week! Check out our new VIP menu for the over 60s: great value and a great selection of our traditional menu £5.50 + £1.25 dessert.
Our meat is bought daily and our menu is seasonal.
Tuck into breakfast from 10am Monday to Thursday and from 9am Friday, Saturday and Sunday, with a range of sizes to suit appetites. Coffee and snacks are available from 10am every day.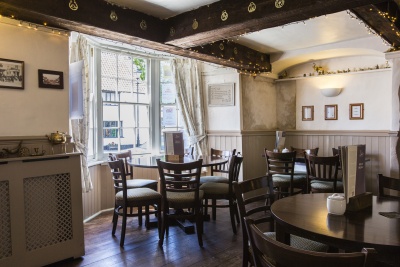 Bookings are recommended but walk-ins are always catered for. We also offer these meals as a take-away option - you can even bring your own plate if you like!
A wide range of home made soups, main courses and desserts are always available.
We take pre-bookable lunch orders (handy for a speedy working lunch), and have daily special offers - also available to take away.
We cater for everyone's needs, including any special dietary requirements - you can even bring your own plate.
We have an ever-increasing range of drinks, including our regular cask ale: Sharp's Doom Bar and two guest ales, four ciders and a wine list.


Functions and Events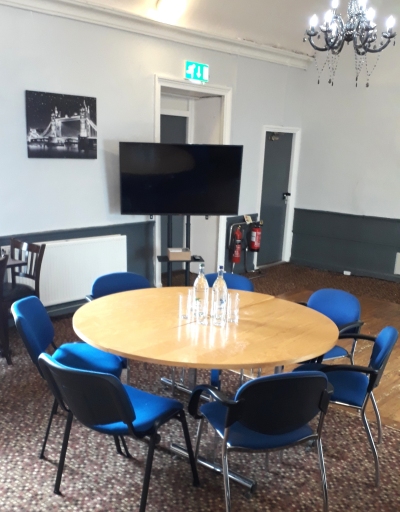 Our upstairs meeting and function room is available to hire for almost any private or business event, day and night, seven days a week.
Book a party and get free room hire, room decoration including balloons, and a competitive price on all buffets.
It is licensed for up to 100 people with its own dance floor and is ideal for weddings, christenings, birthdays, anniversaries, and sadly wakes, as well as meetings and training sessions.
The room is extremely versatile and can be laid out for parties, or formally in boardroom style or theatre style. Seating is available for up to 60 people.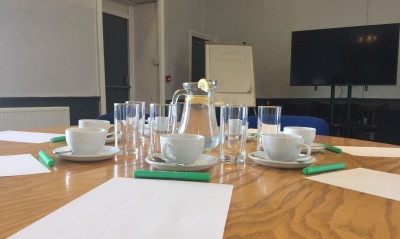 There's free Wi-Fi, a projector and wide screen monitor, and copying facilities.
The room is self-contained, with its own bar and free hot drinks machine, overlooking the beer garden.
Your event can be wholly or partly organised by us, including discos, decorations and celebration cakes.
For children's parties, we can organise an entertainer or traditional party games. We'll even organise tea and party bags!


Skittle Alley
As well as keeping nine skittle teams busy, the skittle alley is available to host events such as fairs and fetes.


Catering
In-house, we can provide all food and drink required for your event: tea and coffee, breakfasts, lunches and evening meals.
Do you need catering in your place of work? We can prepare and deliver buffets to the local area, at a time that suits you.
We have prices to suit all budgets, from a basic finger buffet through to a fork buffet. Just tell us what you'd like!
For children's parties, choose from a traditional party tea or burger and chips, or just let us know what you want.
Outside catering and mobile bars also available - ring for details.


Community Toilets
With few public toilet facilities in Thornbury, particularly in the evenings, The Swan has joined a Town Council partnership to provide clean, safe and accessible toilets in convenient locations in the town centre.
It means anyone can use The Swan's toilet facilities during normal opening hours, with no obligation to buy food or drink.


Swan photos on this page courtesy of Rich McD Photography.






Forthcoming events
Saturday 31st October 2020
Friday 11th December 2020
Wednesday 23rd December 2020