Thornbury Foodbank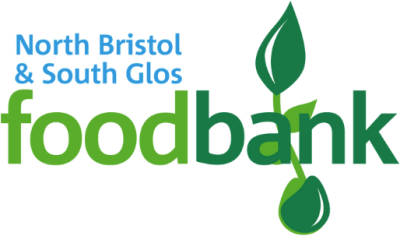 How to contact the Foodbank
The Thornbury outlet of the North Bristol and South Glos Foodbank is based at Thornbury Baptist Church, Gillingstool, Thornbury BS35 2EG.
For more information about the North Bristol and South Glos Foodbank, please call 0117 472 5172, email or visit nbsg.foodbank.org.uk.


How to access the Foodbank
To access emergency food support from the local foodbank in South Glos, you will need to be referred by a frontline professional support service (those who work in the health and social care bracket).
If you are not sure who to contact or this is the first time you have needed a voucher for Foodbank please contact:
Citizens Advice South Glos: 0808 278 7947
Help through Hardship: 0808 208 2138 (National Line run in partnership with Citizens' Advice UK)
North Bristol Advice Centre: 0117 951 5751 (Local advice centre, based on Gainsborough Square, Lockleaze)
South Glos One Stop Shops (Hubs in Patchway, Kingswood and Yate for support from the Council)
Southern Brookes Community Partnership: 01454 868570
You can also be referred via your GP or local Health Centre and a Housing Officer, Support Worker or Social Worker.


How to support the Foodbank
Click here to see the latest Shopping List.
You can drop off donations in the crate behind the tills at Tesco or on the Thornbury Baptist Church steps on Fridays between 9.00 and 11.00am.


Thornbury Foodbank Newsletter Summer 2023
June stats for NBSG foodbank:
- IN June we gave out 15.8 tonnes but only got in 8.4 from donations
- 1525 people were fed v 1180 last year
- The last quarter we have fed 4067 people compared to 3122 this time last year
In June this year we marked the 10th anniversary of the opening of Thornbury Foodbank. We didn't celebrate this anniversary as we will do when the need for Foodbanks has gone! We did, however, arrange a thank you lunch for our volunteers. It was good to catch up with those who were with us from the beginning and others who are journeying with us now.
The number of clients coming to us has remained fairly constant over the past 6 months. From 1 January to 30 June 2023, we fed 410 adults and 328 children. We issued 8.02 tonnes of food and other essentials, and received 5.8 tonnes of donations. Compared with the same period last year, number of adults fed is up by 18% and the number of children is up by 20%. The food and essential items issued is up by 6.5% and the donations received are down by 14%. Cost of living rises continue to have an effect on the numbers of clients and also on the amount of donations, as it affects all of us. We are drawing more donations from the warehouse in North Bristol but can also supplement these by buying in more items, especially fresh food. We are grateful to those who grow fresh food at Daggs Allotments who kindly donate any excess they have to us on a Friday, which clients can help themselves to when they come in for their appointment. This link was established by one of our faithful volunteers who has an allotment and approached the other growers. Our clients have very much appreciated this addition to their parcels.
Whilst donations from our community are down, we continue to be thankful for them. Every item we receive, in kind or financially, is gratefully received as we seek to show love and care to those in need in our community.
Your continuing financial donations enable us to buy fresh fruit, vegetables, cheese, bread, spread, baby milk and nappies and essentials when our stocks are low.
We are most grateful for the support we get from local businesses as well as individuals, schools, churches and organisations. Harvest is on the horizon and two of our volunteers will be going in to schools to share about Foodbank. These talks were enthusiastically received last year, so please let us know if any of you would like them to come and talk to your organisation about Foodbank.
We continue to have a good number of faithful volunteers who work with us on a Wednesday morning when we weigh and date all the donations and restock our 'shop' ready for Friday, and on Fridays when there is a morning and afternoon shift. The morning team put together the basic parcels and the afternoon teams have two roles. One team will welcome and speak to clients in order to establish other ways we can help them, signposting them to other organisations where appropriate. The second team add extras such as toiletries and other essentials to the made-up parcels. We are so encouraged by the volunteers' enthusiasm and their desire to be part of this wonderful opportunity of helping those in our community who are in need.
In exceptional circumstances where clients are unable to come to the Foodbank due to illness or other reasons, we are able to deliver their parcels. We are grateful for the support of our drivers who come in and help us with this on Fridays.
But we do encourage all clients to come in so that we can discuss other ways we, and other organisations, can help them. Hopefully providing them with the means to help get them out of food poverty.
On behalf of all of those benefitting from your kindness, generosity and concern, and always in the hope that one day Foodbanks will no longer be needed, we want to thank you again for making life a little easier for those in need of our help. We couldn't do it without your support.
Wishing you all continued health, peace and hope in the coming days.
Mair Vaughan, On Behalf of Thornbury Foodbank Management Team


What is Foodbank?
The foodbank provides emergency meals for 3 days to people in short term crisis.
The crisis can be the result of problems such as benefit delay/withdrawal, separation, unexpected bills, debt, bereavement or redundancy.
It's a service for local people in short term difficulties, to remove the worry of feeding their families while problems are sorted out.
The Thornbury outlet is a Thornbury Churches Together initiative, with volunteers from all Thornbury's churches running it and donating food.
The North Bristol Foodbank is part of The Trussell Trust's UK wide foodbank network. 


How it works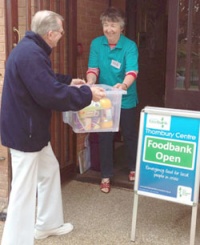 Food is collected by churches, schools, businesses, other groups and from the public by collecting outside supermarkets.
The food is sorted by type and date and stored ready for use.
Care professionals allocate vouchers to people they encounter at work who need food.
Vouchers are issued online and sent to North Bristol Foodbank electronically. We receive those for clients in our area and the client is texted an appointment time between 1.30 and 4pm on a Friday at Thornbury Baptist Church.
While the parcel is prepared, trained staff talk to the client to see how else they can help, e.g. with debt advice or by liaising with official agencies.


This is a typical example of a client:
If, twelve months ago, someone had told me that I'd be relying on a Foodbank to feed me, I would have laughed at them; life was going swimmingly.
Then, out of a clear blue sky, I found myself handed a series of events that were both unexpected and out of my control. I found my income cut off with, sadly, my financial commitments remaining. Before I knew it, I had mere pennies in my bank account and no food in my fridge.
Whilst I'd assumed that the welfare state that I'd paid into for years would help me, I found that I'd been pretty much hung out to dry. Every Government and Local Authority avenue I tried proved to be hopeless. Quite simply there was nothing available in the system for people like me.
By the time I found the foodbank, I hadn't eaten for three days and I was desperate.
If I'm honest, there's far more embarrassment than pleasure having to go cap-in-hand to a food charity. That said, they treated me with understanding, compassion and moreover, like a human being.